Eyelid Surgery Quick Facts:
All-inclusive price – from €1095 / £933
Overnight stay at the clinic – yes
Minimum required stay in Lithuania – 3 days
Eyelid rejuvenation is a surgical procedure to remove excess skin or fatty deposits from eyelids. The treatment usually gives eyes a more youthful, rested appearance. Both eyes are treated to keep a symmetrical appearance. Upper and lower eyelids may be treated separately or at one time. Other facial surgeries such as face-lift or skin resurfacing may be performed in combination. However, to keep procedures from affecting each other, they may be scheduled separately.
The Procedure
The procedure takes between one and a half and two hours, usually under local anesthesia. Intravenous sedation may be given if the patient wants it. A general anesthesia is used if a face-lift is also performed. The lid is cut along the eyelid fold, across to the smile lines. A parallel cut removes an excess skin fold. Fatty tissue in the lower lid is removed through an incision just below the eyelash or an incision on the inner surface of the lid. Stitches close the incisions. Blepharoptosis – A weak eyelid muscle may cause an eyelid to droop – can also be treated, with or without eyelid rejuvenation.
Simple illustration of the procedure
The amount of extra skin to remove around the eyes is estimated conservatively before the surgery.
If part of the problem involves the bulging fat pads, these are conservatively removed in order to avoid the "hollow" eye look.
The skin is brought back together leaving small scars that are well hidden in the upper eyelid crease and just below the eyelashes in the lower eyelid.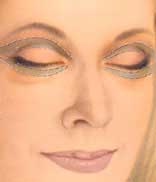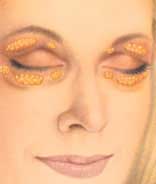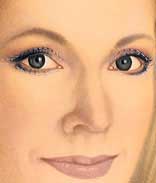 After Eyelid Surgery
After the surgery, swelling may keep the eyelids from completely closing and causing eye dryness. This temporary condition can be relieved by applying artificial tears or ointments. Patients who have dry eyes before the surgery should consult an ophthalmologist. Stitches are removed after four to seven days; therefore, it is advised to stay in Lithuania for 5 days after the surgery. Discoloration usually goes away after several weeks; swelling may require slightly longer to completely relieve.
Eyelid rejuvenation is relatively safe and straightforward. Temporary blurred vision usually clears up within a few days. Rarely, a drooping or retracted eyelid, or darkening of the lids may be caused by blood residue, but can usually be treated satisfactorily. On extremely rare occasions, blindness in an eye may occur.
Before & after photos:
The costs in the table are all-inclusive, yet approximate and might be slightly lower or higher. To indicate an exact price the patient needs to undergo a free and non-binding consultation with the doctor (sending photos is also sufficient). When several surgical operations are carried out together, discounts are applied.
Price in £ might vary due to exchange rate fluctuations (against the €).
Eyelid Surgery
Price in €
Price in £
All-inclusive prices of Eyelid Surgery
Upper eyelid
1095
933
Lower eyelid
1295
1,103
Frequently Asked Questions about Eyelid Surgery
What is eyelid surgery (blepharoplasty)?
Blepharoplasty (or eyelid surgery), is a popular procedure that can dramatically improve the appearance of sagging upper eyelids and bulging bags of the lower eyelids. The delicate eye area is one of the first to be visibly affected by ageing, causing tired looks. Blepharoplasty aims to restore youthfulness to your eyes.
How experienced are the surgeons at your clinic in performing cosmetic eyelid surgery?
It is one of the most commonly performed facial plastic surgery procedures at our clinic. Eyelid surgery is carried out quite often not only for women but also for men.
How do I know if I am a good candidate for an eyelid surgery?
The best candidate for blepharoplasty would be a physically healthy person who is realistic in his/her expectations regarding better appearance of droopy upper eyelids and bulging lower eyelid bags. Eyelid surgery will not correct sagging of the brows, forehead furrows, or deep lines and wrinkles. These patients may require other procedures (e.g. brow lift or face lift).
What kind of anaesthesia is applied during the eyelid surgery?
Upper eyelid surgery is usually carried out under local anaesthesia; whilst lower eye lid surgery requires intravenous anaesthesia.
How is the eyelid lift surgery carried out?
During upper eyelid surgery, the excess skin, muscle and fatty tissue are simply removed through a tiny incision hidden in the crease of the upper eyelid. During lower eyelid surgery, the incision is made inside the lower eyelid, so that it stays invisible.
How long does the procedure last?
Eyelid surgery normally requires about one hour to complete.
Is it possible to combine other procedures with cosmetic eyelid surgery?
A range of other cosmetic procedures and surgeries (not only face but also body contouring surgeries) may be safely carried out together with blepharoplasty.
How is the recovery after blepharoplasty? How long does it take till the stitches are removed?
Patients may anticipate some swelling and bruising for one to two weeks. It is also common to sometimes experience dryness, excessive production of tears, itching or burning of the eyes, sensitivity to bright light, etc. Regarding the stitches, these are removed from 5 to 7 days after the surgery.
How much time will I need to take off from work for blepharoplasty?
Patients are recommended to take off from five to ten days from work for eyelid surgery. We advise the patients on how to make the early post-operative period as short as possible.
When can I continue exercise after blepharoplasty?
The recovery process is individual for every patient but usually patients should avoid strenuous activities for several weeks after the surgery. It is also recommended not to consume alcohol during your healing period.
What are the complications related to eyelid surgery?
There are certain risks and the potential for complications associated with every surgical procedure, including eyelid surgery. These may include the subsequent: bleeding, difficulty in completely closing the eyes, dry eyes, infection, slight asymmetry, swelling at the corners of the eyelids, temporary blurred or double vision.
This information was prepared by the doctors of our partner plastic surgery clinic. It is forbidden to copy and use the information without the permission of the authors.