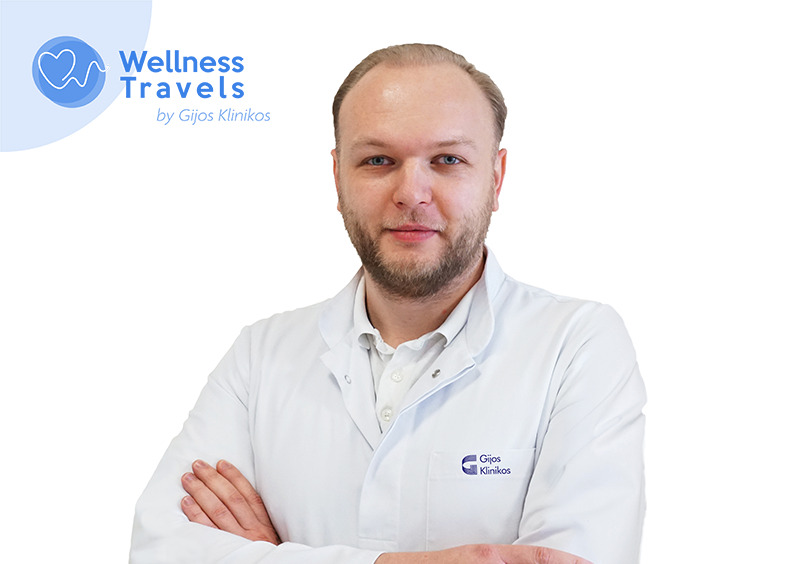 2023 . 02 . 01
The doctor about the way to reduce appetite: a person loses weight because he eats as much as he can fit in a handful
Obesity is not negligence or a habit of overeating. Excess body mass is due to fat. And fat cells are active. They produce many substances that disrupt the body's metabolism.
Being overweight is dangerous because it leads to various diseases, such as high blood pressure, cardiovascular diseases, increasing the risk of having a heart attack or stroke, diabetes, and even cancer. Due to heavy weight, the joints wear out faster, the spine deforms, and the quality of life deteriorates.
It is predicted that by 2030 there will be around 1 billion obese people in the world, and one in five women and one in seven men will be overweight. Doctor of Medical Sciences Donatas Danys, abdominal surgeon of Santaras Clinics of Vilnius University Hospital and Gijos klinikos, said that obesity is a disease if the BMI (body mass index is the ratio of height to weight) is more than 30.
– What are the treatments used?
– Treatment usually starts with conservative measures – changing lifestyle, correcting harmful eating habits, increasing physical activity. Such patients need the help of dietitians to help them choose a healthier lifestyle. If BMI cannot be effectively corrected, patients are referred for surgical treatment of obesity. If BMI is 35 or more, if co-morbidities are detected, patients are offered surgery. Two types of operations are most recognized in global practice: gastric resection ("gastric sleeve") and gastric bypass. It is discussed individually which methodology is better to choose for the patient. Gastric resection is currently used most often. In the world, this type of stomach reduction surgery is more popular due to the lower frequency of complications and its physiological nature. If the patient is diagnosed with reflux, gastric hernia, if he has diabetes, bypass surgery is more often performed, and in other cases, a gastric resection procedure is offered.
– How quickly do patients recover after surgery?
– Both operations are performed with a laparoscope, small incisions are made – four or five holes are made in the abdominal wall. The duration of these operations is about an hour. These are minimally invasive methods that cause as little damage to the patient's body as possible. After gastric bypass surgery, a person can be at home the next day. If the postoperative course is normal, it is safe to discharge the patient from the hospital, although his body mass index may reach 50. Imagine a woman who is 1.7 meters tall and weighs several hundred kilograms, but after the operation she can go home the next day.
– What is the most difficult patient you have operated on
– I have operated on more than one patient who weighed more than two hundred kilograms. Because a large weight complicates general anesthesia, we advise the patient to lose at least 30-40 kilograms before the operation.
– When is it recommended to reduce the stomach with a special ring?
– In the world, this method is already a thing of the past. When the upper part of the stomach is encircled with an adjustable band called a band, this surgery is not often performed, accounting for about one percent of all surgeries for obesity. It was a popular operation 10-15 years ago, but it is being abandoned due to complications in the late postoperative period. International conferences dedicated to the surgical treatment of obesity no longer discuss this method. The ring is a foreign body, it can grow into the esophagus with the stomach, it can bleed, the ring can come loose, so it needs constant adjustment.
– How often can the volume of the stomach be narrowed with a ring?
– The ring is adjustable, so the stomach can be narrowed. If the weight decreases, everything is fine, if the weight stays in place, you need to tighten the ring. If it is tightened too much, it becomes difficult to swallow solid food, in other words, it does more harm than good. I'd say it's a bit of a game, although after tightening the stomach it remains as big as it was before the surgery. If we compare several types of operations, for example, using an adjustable band (ring) and gastric resection, after the first operation the appetite does not disappear anywhere, but one cannot eat much, the patient suffers, stress arises. A person blames himself for deciding to lie on the operating table. And after gastric resection, the desire to overeat disappears. There is no huge appetite because the part of the stomach where the hunger receptors are located is removed. Even after eating a small portion, you feel full. For example, a person drinks water and says that he no longer wants to eat. This is a big advantage.
The motivation to lose weight also increases, after about three to four months the changes become obvious. Happy that they can buy new clothes, choose active leisure time, patients even send us their photos.
– What are the possible complications after bariatric surgery?
– The most common complications are postoperative bleeding and suture leakage, so the patient stays in the hospital for 1-2 days after such operations, and other complications depend on the type of operation, but the percentage of complications is similar to the surgical treatment of gallstones. There are rare cases of weight regain even after gastric bypass surgery. Especially when a person does not want to change his lifestyle. After regaining weight, it is advised to consult a doctor, nutritionist or psychotherapist. For possible weight loss surgery, the decision is made after all other treatments have been tried.
– To what extent does the treatment of obesity depend on a person's will?
– We must understand that no diet can give long-term results. A diet is a short-term solution. If we are tempted to reward ourselves and eat what we are used to, the weight lost due to the diet comes back. And after laparoscopic surgery, whether it is a gastric resection or a gastric bypass, a person is forced to eat less, because the volume of his stomach is significantly reduced. Food portions are very small, for example 50-200 milliliters. In other words, there is as much food as you can fit in a handful. In the long run, a person gets used to eating small portions, which determines the success of obesity treatment. A person can choose even more high-calorie food, but in small portions, so the weight falls naturally.
Danutė Jonušienė "Lietuvos rytas" journal "Savaitgalis", "Lietuvos rytas"
Read the original version here.