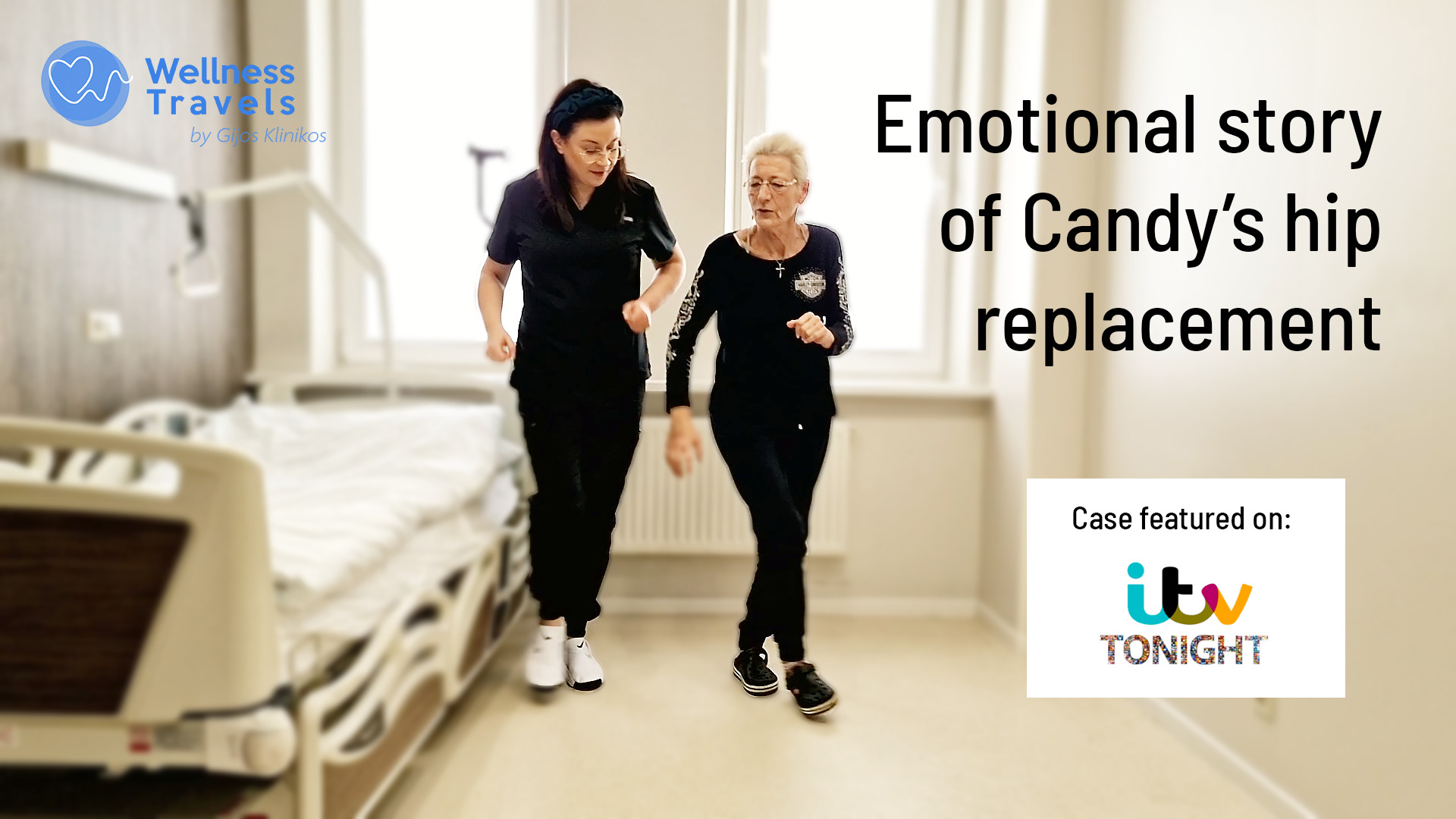 2023 . 03 . 30
An emotional story of Candy's hip replacement (as featured in ITV's "Tonight")
(Bonus – we are now offering a free flight + free hotel for foreign hip/knee replacement patients! See full conditions here.
A story has been watched by millions. Candy Duncan, a caregiver from the UK, contacted Wellness Travels this year for what looked to be a routine hip replacement surgery in Gijos Klinikos. Of course, the surgery itself went more than well – we are proud of being able to collaborate with Gijos Klinikos and one of their orthopaedic surgeons – Linas Zeniauskas. But other than the surgery itself – Candy's story is not ordinary as she travelled to Lithuania not alone: her companion was a journalist from ITV's Tonight's program. On the 30th of March, they shared her story with millions of people. You would ask – why Candy? Well, she is an inspiring person, on the other hand, Candy's case isn't the only one. There are more people who find themselves in a situation where the NHS fails them in time of need. She has been working in health system for many years, but when it was time to help her – the waiting list shocked her. Candy got an appointment with an orthopaedic surgeon after two years of her injury. The doctor assured her that she needed a hip replacement. And the waiting list was another two years…
In the interview with us Candy tearfully admits that this situation became one of the lowest periods of her life – mentally, physically (the pain was excruciating), and financially. No driving, no line-dancing, no long shifts at work, struggle with short shifts…
And then Lithuania came up on a list and at first it scared her quite a lot. Going to a completely unknown country and having hip replacement surgery was one of the bravest decisions to make.
There are so many things to cover up in this story, but let's watch Candy telling us what happened in her own words, on our Youtube channel. Candy was gracious enough to give an interview not only to ITV but to us as well, please see below:
Lastly, we want to share a letter written by one of our staff members to our lovely patient herself – Candy. Hopefully, you are reading this, my dear!
"This letter, by the way, although now digital, originally was written down on paper with a pen you gifted me, dear. I wanted to thank you for your kindness It was simply inevitable for our whole team to get attached to you and your story. 
We witnessed your pain. Your vulnerability. And we also witnessed your first day of the rest of your life – finally painless in your leg.
We even cried a bit together, remember? We danced together! Oh, boy did we dance!
Whatever you do – enjoy every day of it. All of our team members are beyond happy to know you can come back to work very soon, also come back to line-dancing classes, drive a car… We are both – honored and proud to meet such a wise and kind woman!
Best wishes for you from our team: Wellness Travels, your surgeon Linas Zeniauskas, your physio Vainius Petrauskas ("V"), your dancing partner and the author of this letter Eglė, and Gijos Klinikos!
__________________________________________________________________
More information on hip replacement surgery: https://bit.ly/3G2cZMp
More information on orthopaedic surgeon Linas Zeniauskas: https://bit.ly/LinasZeniauskas
Contact us:
+442081445223
info@medtourism.eu
Follow us on Facebook: https://bit.ly/WellnessTFB
Follow us on Instagram: https://bit.ly/40GXtxA
Follow us on TikTok: https://bit.ly/WellnessTikTok