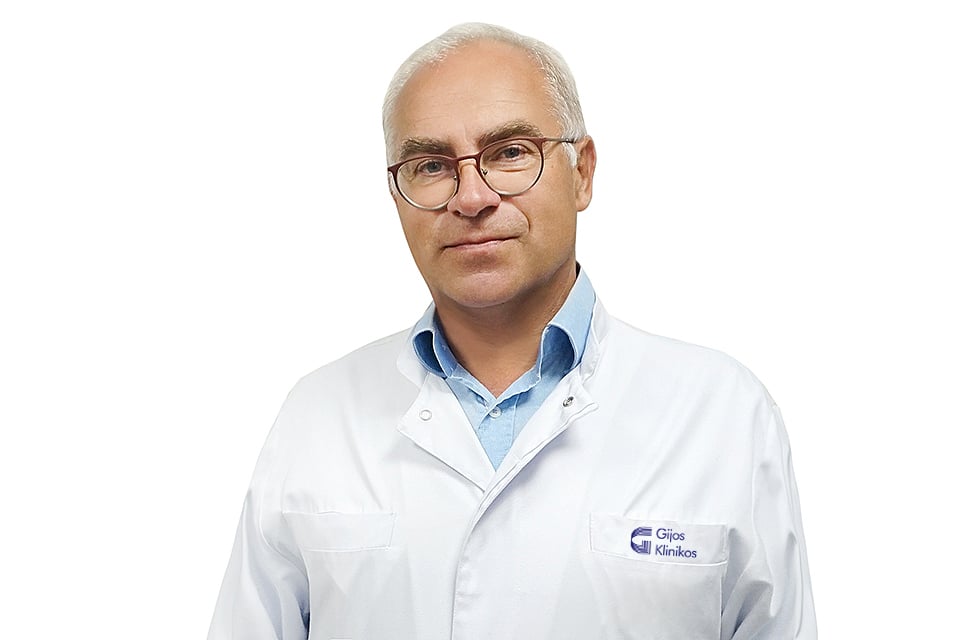 Orthopaedics
Dr. Juozas Belickas
Orthopaedic surgeon Juozas Belickas, MD, PhD.

Specialization
Knee joint surgery: knee replacement (partial or revision), arthroscopy, ligament reconstruction, cartilage reconstruction.
30 years of work experience;
Total 500 surgeries per year;
More than 2500 knee replacements;
More than 10000 arthroscopies;
More than 1500 ligament reconstructions;
More than 300 cartilage reconstructions;
Operated patients from UK, Ireland, Norway, Spain, Sweden, Canada, USA, UAE, Libya, Poland, Russia, Belarus, Ukraine, Kazakhstan etc.;
The ex-president of Arthroscopy Surgeons Association in Lithuania;
Principal investigator in multiple clinical trials;

Juozas Belickas is the surgeon who has never stopped improving his skills and he is also teaching other orthopaedic surgeons to reach the highest level of professionalism.
Education
1979-1984  – Kaunas Polytechnical Institute (now- Kaunas University of Technology), an engineer mathematician;
1985-1996 – Kaunas Medical Academy, Faculty of Medicine;
1991-1994 – general Surgery, Kaunas Medical Academy;
1994-1996 – orthopedics traumatology, Kaunas Medical Academy;
2002 – PhD Thesis;
2005-present – orthopaedic surgeon at Gijos Klinikos.
Qualification
Aarhus Amtssygehus, Denmark (1991 and 1995);
Helsinki, Finland (1995);
Lorenz Bohler Trauma Center, Vienna, Austria (1998);
Waterbury Hospital, USA (1998);
Clinique Generale Beaulieu, Geneva, Switzerland (1999);
Salzburg, Austria (March, 2000);
Kassel Orthopaedic Hospital, Germany (2001);
Gent University Hospital, Belgium (2004).
Multiple fellowships in Germany, Austria, Finland, Belgium, Italy, Switzerland, Holland, France, Sweden.
Memberships
member of the Lithuanian Physicians Association (LGS);
member of the Lithuanian Society of Orthopaedics and Traumatology (LTOD);
member of the Lithuanian Association of Arthroscopy and Sports Traumatology (LASTA);
member of the Lithuanian Joint Replacement Association (SEA);
member of the EFFORT;
member of the ISAKOS;
member of the ESSKA 2000.
Conferences and seminars
Latvia, Czech Republic, Germany, Austria, Switzerland, Finland, USA, Japan, Croatia, Luxembourg, Portugal, Spain, Belgium, Hungary, Italy, Thailand, Holland, France, Poland, Denmark, Sweden, Norway, Brazil etc.
Speaks fluent English and Russian.