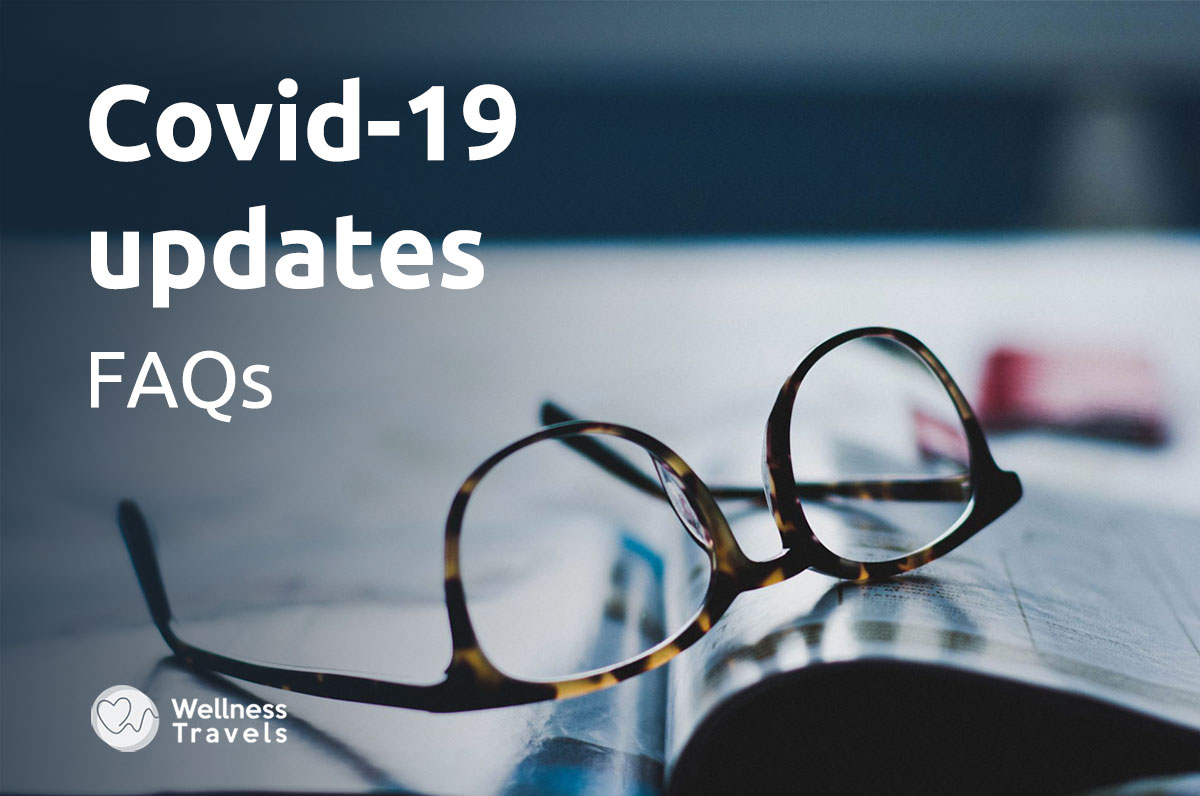 2020 . 03 . 16
Coronavirus Updates & FAQs (constantly updated)
Last updated on the 31 of August.

We hope that this message finds you well 💙

In the light of the current situation in Europe due to coronavirus (covid-19), Wellness Travels will use this blog post to provide most recent information & updates to the current & future patients coming from abroad. We will also use other available channels (e.g. emailing, phone calls) to contact our patients directly.
Quarantine & travel restrictions
Parts of Europe are currently still under quarantine, meaning travel and work of various institutions are restricted. This also directly affects Wellness Travels & our patients coming from abroad. Thus, our clinic must take special measures that will be in effect until the end of 2021.
IMPORTANT: From now on people who can represent vaccination certificates can travel to Lithuania without any restrictions. Everyone else has to represent negative Covid test and isolate during all their stay. Surgery can be performed during the isolation period.
Changes briefly:
Rescheduling (to a date suitable for the patient) is completely free. Our clinic is fully open since the start of July.
Cancellations will be made according to the current TCs (full refund two weeks in advance, 50% refund later)
Below we are providing answers to FAQs about surgery bookings, changes, cancellations, etc.
Frequently Asked Questions
Will I be required to self-quarantine when coming to your clinic in Lithuania?
If you can represent proof of vaccination you can travel to Lithuania without any restrictions. No testing before flight or testing in Lithuania is needed. The clinic will perform Covid antigen before the operation to ensure everyone's safety.
Patients who are not vaccinated have to represent negative PCR or antigen tests not older than 48 hours before the flight.
The second PCR  test will be performed in Lithuania, before the operation to ensure everyone's safety.
During all your stay you have to be in self-isolation, however, it's allowed to walk outside (not further than 1 km from the hotel).
 Can I have my surgery performed when I am in quarantine?
Yes, You can have all tests, consultations, and the surgery itself performed while you are in quarantine here in Lithuania, as there are exceptions when seeking medical treatment. To ensure everyone's safety we will perform the Covid test not later than 48 hours before your surgery, also we will fill in all necessary documents.
 Can I leave Lithuania earlier than 14 days?
Yes, you can leave Lithuania earlier than 14 days, we will apply for a permit for you to leave the isolation place, with it you can leave Lithuania as soon as you are fit to fly.
Will I be able to get some food while isolating in a hotel?
You can use food delivery apps such as WOLT or Bolt food, if you need something from the shop, we can help with that.
How is the situation in Lithuania?
The virus is largely under control. There were 300.000  cases of coronavirus registered in the country (out of whom 4500 had passed away, sadly) (data from 31st of August.
Is air travel / medical tourism safe?
Flying a plane is no riskier than taking a bus, tube, or tram ride. Simply take the necessary precautions (i.e. follow the guidelines issued by the airlines & their staff).
Medical travel is a lot different from the usual tourism, as you will not be doing much sightseeing or mingling with crowds of people. It normally goes as this:
you arrive to your destination, your travel managers take you to the clinic (for medical tests) and then to the hotel.
on the next day you will have a consultation with the surgeon;
if all is fine, you will go undergo the desired surgery & will spend a night or two in the clinic;
you will be discharged (if the surgeon deems it safe) and your recovery will slowly continue in the hotel room.
Is visiting your clinic safe?
Our plastic surgery clinic is not a place where people go when they feel flu-like symptoms. We have no GPs. Rather it's a place for specialized procedures (which are booked well in advance). Plus, the clinic takes hygiene to a whole another level (regardless if there is a virus or there isn't).
All being said, our patients will be required to undergo certain medical tests (before the surgery). Should the situation change, we will inform you immediately through all channels available to us.
Can I change my surgery booking for free?
All patients are allowed to move their surgery bookings to further dates (suitable for the patient) for free (until the end of 2021).
What if I book the surgery & the travel restrictions are still in effect?
You will be allowed to freely reschedule the surgery for a later date suitable to you. Given the uncertainties, please check with us before buying flight tickets to Lithuania.
What if I'm not sure what date will be suitable for me in the future?
In such a case, our clinic will provide you with a 'booking' voucher. It will allow you to re-book your surgery at any later date this year (without any extra charges). The vouchers will be valid for one year.
Please be advised that such re-bookings will be subject to availability at your desired date. Thus, it's necessary to inform us (about your choice) at least 4 weeks in advance.
What if I want to cancel the booking?
That can be done according to the current terms & conditions. To be exact, we will be giving full refunds if cancellations are made two weeks in advance & a 50% refund if cancellation is made later. Other changes to your booking will remain free as long as quarantines/travel restrictions continue.
Do not hesitate to contact us, if you have any additional questions or concerns.
Stay safe & healthy 💙
Written by:
Karolis Sulcas